---


---


---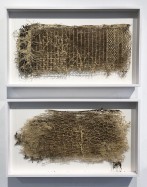 ---


---
The Intelligence of Plants
16.10.2021 — 30.01.2022
With the exhibition The Intelligence of Plants, the Frankfurter Kunstverein wants to once again contribute to the debate about the Anthropocene: what new understanding of plant life have we humans gained, and what conclusions can we draw from this knowledge. If plants were the first living beings on the planet, they have proven to have developed successful methods to sustain themselves over millions of years despite the five past occurrences of species extinction.
Curator Franzisca Nori
Artists: Berlinde de Bruyckere, Diana Scherer, Nicola Toffolini a.o.
 https://www.fkv.de/en/exhibition/die-intelligenz-der-pflanzen/.   
---