---
---

---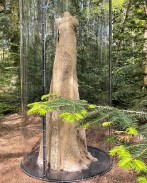 ---

---
---

---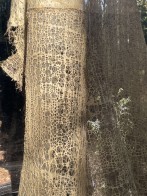 ---
 Grown Plantrootsculpture - Dresses 
Curator Hans Den Hartog Jager
The exhibition consists of new work by Marianna Simnett, Charles Avery, Mercedes Azpilicueta, Diana Scherer, Erik van Lieshout, Augustas Serapinas, Isa van Lier, Jakob Kudsk Steensen, Kasper Bosmans, Renzo Martens / CATPC, Alexandra Pirici and Em'kal Eyongakpa.
Design and production vitrines: Shahin  Emamgholizadeh
https://arcadia.frl/en/projecten/paradys/?cn-reloaded=1 
ARCADIAN ORANJEWOUD
Oranjewoud is a classical idyll, created by the Frisian Nassaus. It is a meticulously proportioned outdoor pleasure dome and a product of the idea that nature can be tamed and paradise manufactured. Precisely because Oranjewoud is not a neutral location, it offers artists the perfect opportunity to push against the world, to question and disrupt it. Some of the artworks in Paradys enhance the location's beauty and poignancy, others provide a context or a history. Other works ask where all this came from. This means that Paradys deals with major, contemporary issues. Is it still possible nowadays to create an ideal world? For whom is that world intended? And most of all: what does that world look like?
---