---
---

---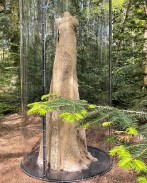 ---

---
---

---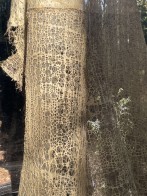 ---
 Harvest Recasted 2022
Curator Hans Den Hartog Jager
The exhibition consists of new work by Marianna Simnett, Charles Avery, Mercedes Azpilicueta, Diana Scherer, Erik van Lieshout, Augustas Serapinas, Isa van Lier, Jakob Kudsk Steensen, Kasper Bosmans, Renzo Martens / CATPC, Alexandra Pirici and Em'kal Eyongakpa.
Design and production vitrines: Shahin  Emamgholizadeh
https://arcadia.frl/en/projecten/paradys/?cn-reloaded=1 
Installation Harvest Recasted 2022
For the Triennial Paradys Arcadia in Oranjewoud 2022, Scherer grew three long dresses 300 cm high. The dresses refer to three noble women who each left their own mark on the history of the Oranjewoud estate. Like ghosts sprouting from the ground, the  dresses rose up in their protective display cases: one for the estate's founder Albertine Agnes van Nassau (1634-1694), one for her daughter-in-law Henriette Amalia van Anhalt-Dessau (1666-1726) and one for Maria Louise van Hessen-Kassel (1688-1765).
The three women act as characters through which Scherer made visible the different historical layers and characters of Oranjewoud. In the patterns Scherer used, themes appropriate to their roles can be recognised. The dresses were displayed in three round showcases in the middle of the Oranjewoud forest. She also placed three sculptural grass rolls with root patterns in the forest. The grass roll is a reference to the farmers who were driven out of here centuries ago to make way for Albertine Agnes' estate. But the roll also refers to a roll of fabric, as sold by the yard, ready to be cut for a new dress.
---