---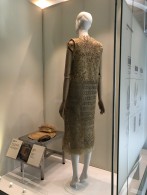 ---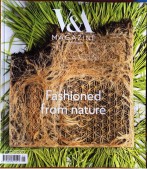 ---
Dress grown from plant roots 2016
https://www.youtube.com/watch?v=ySuzQ5TE3Eo
The exhibition tells this story through dress and accessories drawn from the V&A's collection and loans from leading designers such as Stella McCartney, Giles Deacon and Ermenegildo Zegna. Natural history specimens, taxidermy, film and images add context. A specially commissioned soundscape brings nature into the exhibition space in another way gradually merging birdsong with the sounds of machinery to suggest the increasing impact of human activity as technology advanced and the population grew.
Throughout, Fashioned from Nature highlights the role of campaigners in raising awareness of the negative impact of fashion, from the founding members of the Royal Society for the Preservation of Birds to Katharine Hamnett and Vivienne Westwood. Importantly, it focuses on solutions and draws attention to the exciting interdisciplinary research taking place today which is driving the development of cleaner, less wasteful processes and materials.
At a time when environmental protection and the use and disposal of precious resources are hotly debated topics, the exhibition provides a forum for discussion. Fashioned from Nature asks what we can learn from the past in order to design a better fashion industry for the future. It not only challenges designers to create clothes that are both beautiful and responsible, but also encourages us all to consider more carefully our own clothes.
Written by Edwina Ehrman, Senior Curator of Fashioned from Nature
Fashioned from Nature opens 21 April 2018.
---